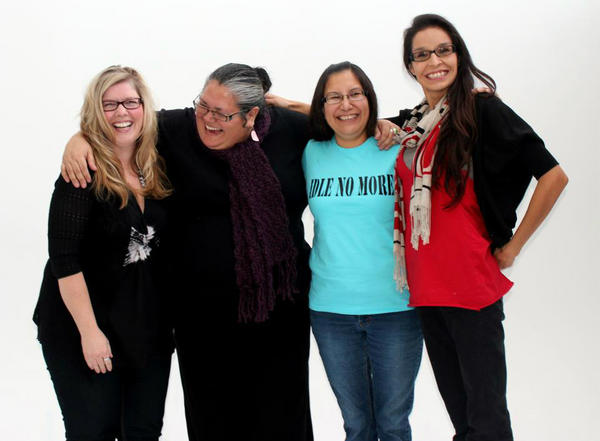 The founders of Idle No More  @Sylvia McAdam  photo via twitter.
https://twitter.com/SylviaMcAdam/status/283819711257538560
Sheelah McLean (left), Nina Wilson, Sylvia McAdam, Jessica Gordon
If you're still wondering what has Canada's First Nations "Idle No More" then brew some tea, get your seat all comfy and let the ladies do their thing–teach. Here's a very accessible introduction to the issues.  Canada's Omnibus Bill C-45 has been passed by the senate. Guess what that means after Dr. Pamela Palmater lays it all out.
Sylvia McAdam, Jan. 6 Teach In, Calgary via placesintheforest
Sylvia McAdam presents Peaceful Women Warriors ~ Alberta
Nina Wilson interview with Trevor Grey Eyes News regarding C-45
In depth presentation about Canada's First Nations issues. This is very clearly presented information and explanations.
Dr. Pamela Palmater ~ Alberta (part 1/4)– On the legislation/Harper/Indian Act/environment and more.
(part 2/4) Water issues, discrimination via the Canadian legal system, pipeline, treaty partners, reserve land,  First Nations elections, protests, chiefs and more.
(part 3/4) Omnibus Bill C-45, treaty rights, jurisdiction,  "unlocking our lands," education, who benefits from First Nations poverty and more.
(part 4/4) Resource Development by force, right wing media spin issues, social media, White Paper 2012, et al.
Anyone else get the sense that just meeting with Harper is not going to silence the drums of "Idle No More" while genocide is committed via legislation?